History

The land, which was to become Romeo, was inhabited by Chippewa Indians when Jeremiah Allen moved from Canada in 1821 and built his cabin. In January of 1822, Mr. And Mrs. Asahel Bailey arrived from New York State on "Walk in the Water," the first steamer to navigate the Great Lakes. They became the first permanent citizens.
Romeo was known as Indian Village when a Mr. Hoxie appeared in 1822. He established an Inn on Main Street called The Old Red Tavern which, sadly, was later destroyed by fire. At this point in history, the village was renamed Hoxie's Settlement.
The first village lot, located on the corner of Van Dyke Avenue and West St. Clair Street was purchased by N.T. Taylor for $12.00. There he built and operated the first store. Business in the village began to grow in the early 1830s and by 1837 the following were established: three dry goods and grocery stores, tannery, a shoe shop, a foundry , a copper shop, a carpenter shop, a shoe factory and a hoopskirt factory.
Hoxie's Settlement became incorporated and renamed on March 9, 1838. Romeo was the new name given the village by Mrs. Laura Taylor when the 3 plat owners (Asahel Bailey, N.T. Taylor and Major Larned) failed to choose a suitable name to fit their criteria. She felt the name was appropriate as it was short, musical, classical and uncommon.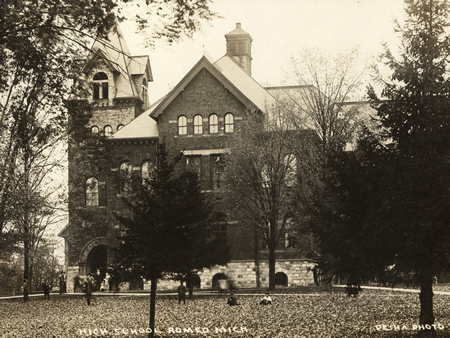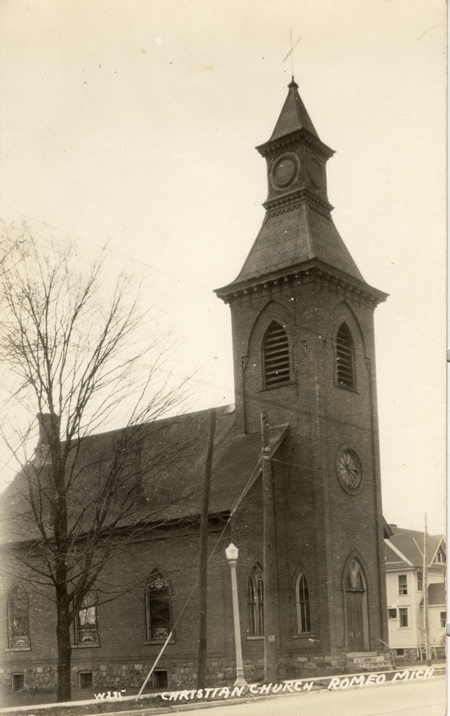 The first school was built 1828 on the parcel which became, in later years, the North School and is now the administration building. The log structure was 20×30 feet in size with an ample entry-way which left a school room of about 20×20. It was used as a meeting house for many years and also for religious services.
Education beyond the grade school being deemed necessary, an institution which became the Romeo Academy was organized in 1835. In 1843, it became a branch of the University of Michigan, one of a number of branches established across the state. The branch system was not funded by the state and the local academy later closed.
A new educational institution was organized as the Dickinson Institute, named for the benefactor who donated the building on Prospect Street. It later became Romeo High School.
Reprinted with permission from The Romeo Observer.
Susan Kane, President, Romeo Historical Society
The Romeo Historical Society would like to thank our
business sponsors for their major donation support:
Romeo Historical Society
PO Box 412
Romeo, Michigan 48065
586-752-4111